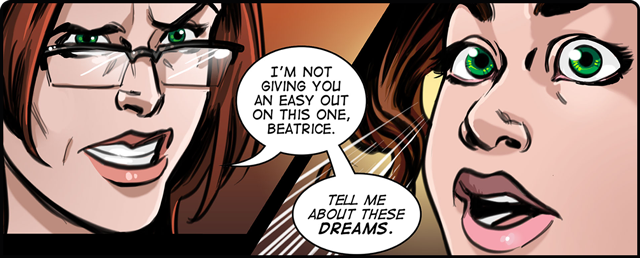 Lora Innes letters The Dreamer
Lora Innes, creator of The Dreamer comic, uses Comic Life as her go to app for lettering her pages. When beginning The Dreamer Lora knew she would need a good lettering tool, one that she could quickly and easily use herself, to make her pages look professionally finished. Once she found Comic Life she never looked back. Read Lora's tutorial on digital lettering with Comic Life to see just how easy it is!
I use a program called Comic Life to letter and love it. It's just so easy to size, resize, make a style and reuse it! And, it looks GREAT!
– Lora Innes
Comic Life provides comic creators with essential tools for lettering and layout, helping you work quickly and professionally. Easily access precision editing tools for balloons including tail warping, hundreds of balloon varieties, and stroke options for a hand drawn look. Titles and sound effects are easy to add and customize with powerful editing tools including a gradient builder, 3D effects, image fills for lettering and more!
See what Lora has to say about Comic Life for lettering her pages:
What Comic Life Gets Right:
Why not Illustrator or Photoshop?

I've been using Comic Life for eight years since Page 1, Issue #1 of The Dreamer. So why haven't I moved onto Adobe Illustrator, yet?

⇒ Professional looking word balloons are just a drag and drop away in Comic Life.

⇒ By creating your own custom Styles in the program, you only need to set up your favorite font, stroke and color preferences once.

⇒ Text is designed to maximize the space inside a balloon, and text is automatically reformatted every time you make a change to balloon size and placement.

⇒ Balloon tails are highly adjustable, and only take seconds to tweak.

⇒ The program comes fully loaded with commonly used balloon shapes, popular comic fonts, and even Sound Effect lettering options.

⇒ The program only costs as much as a Blu-ray disk.
Lora's original post can be found on ChrisOatley.com.
On Lettering in Comic Life
"I love Comic Life because it allows me to size and resize balloons and balloon tails so easily. It automatically fits the text perfectly into any balloon shape. This program makes experimenting easy and efficient. I move things around a lot before I settle on a balloon's final size and placement, and Comic Life makes editing a breeze."
Sample pages from The Dreamer
Lora using Comic Life