Have you ever needed a way to show someone how much you care? Well, Silvano, an Apple Distinguished Educator and Comic Life user, has found a way to woo with Comic Life. Recently he bought his wife a book for her birthday and made her a special bookmark to go with it! And to my romantic sensibilities, this is absolutely priceless (read: "super cute"). The book is titled "I Pesci Non Chiudono Gli Occhi" or "Fish Don't Close
Their Eyes."
When I needed a little translation help to read the bookmark properly, Silvano told me that what he wrote to his green eyed wife was this:
"Fish don't close their eyes.
That's true,
Yes, but why?
'Cause they are all there, waiting,
Until you open your eyes
To see again
The color of their sea."
And  a really cool thing is that Silvano crated a template for how to make the perfect bookmark in Comic Life 2! You can download it here: Paper Bookmark.cl2tpl_original
A Tutorial From Silvano:
If you wish to create a custom paper bookmark, you don't need to have Photo Shop or similar high priced app, you can do it with the more less expensive and easier ComicLife.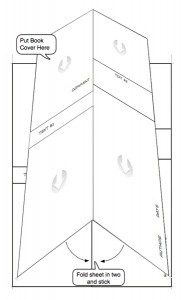 Yes, ComicLife isn't only an apt to create cartoons It's an easy and flexible tool,  and I for instance used it even to create a custom bookmark. How, you ask? I created a template with perfectly arranged areas for photos and captions that allow you to fold the paper in two.
That done, you can paste in the upper left box the scanned or downloaded image of the book cover. In the right bottom box I put a text box for author's name and date.
Here comes the creative part: finding some photos and words to give the bookmark the desired feeling.
You can create writings on a see through background selecting the text box, then pressing the "fill" button in the toolbar, from it "show colors" and setting "Opacity" to zero. (thanks to Erica)
The work can be printed directly from the App or exported as image in various formats and printed e.g. from Preview.
Finally print it on an adhesive full-sheet label, fold it in two to get the crease right, then remove the back to expose the adhesive, trim the white margins complete the work, and you have the perfect bookmark!
Go ahead and give it a try!
You can find Silvano's original Italian text published on TEVAC, Italy's longest running Mac web-site.