Hello everyone!
If you ever thought comics had no place in the business management world then I'd like you to meet someone. Bringing humor and comics to the world of employee and management training is… drum roll please….
Steve!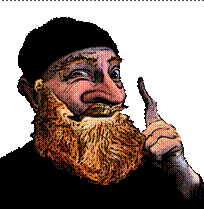 Steve is the owner and founder of SMP Training, Co., a company that focuses on training the travel and tourism industry in New Business Generation (NBG for short). Steve works with clients all over the world, with everyone from "the front line to the accounting department." You might wonder how a guy who works in business management and marketing practices ends up using Comic Life on the regular. Well, I'll let him tell you…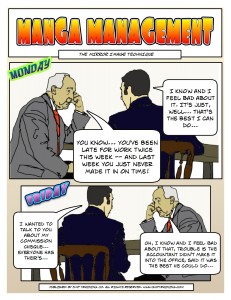 "I have an artistic talent but I'm not a cartoonist – and for a long time, I was purchasing 'how-to' books and trying to sketch cartoons for training purposes – trying to add some humour into what I taught. I searched on line for software but could not find what suited my needs. Finally, somehow, Comic Life came up in a search and that was it. I had the tool I was looking for."
Once he had Comic Life in his toolbox Steve was able to put that talent and creativity to work.
"I found Comic Life easy to use, and I could tap my artistic talents in terms of layout and colour choices, text options etc."
"I have used my Comic Life creations in a training session, and when I used a cartoon layout in a workbook the 25 – 35 year olds grasped the situation very quickly through the Comic Life imagery on the page. I also create one pager educational tools I call Manga Management pages and try to capture a problem and offer a solution in one page. The cartoon layout tends to create more interest than a generic wall of text and a photograph."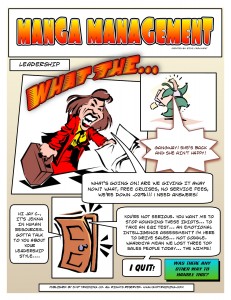 More about Steve
He publishes a free e-Magazine called Selling Travel. 
He also writes a monthly sales column for Canadian Traveller, as well as creates content for and deliver webinars for The Travel Institute in the US, the Canadian Institute of Travel Counsellors in Canada, Canadian Traveller magazine, Selling Travel and The Travel Agent Revolution. 
In 2010 Steve wrote and produced a 412 page book called 273 No Fluff No Theory
Marketing Ideas for Travel Agents. Currently he is working on a new book called Dream
Merchants – The Art and Role of Travel Agents.