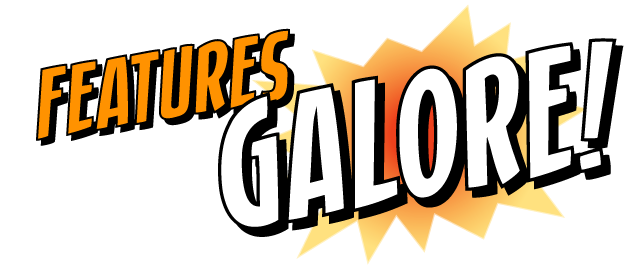 If you like Comic Life now you'll love what we're bringing you in Comic Life 3. We've been listening to your requests, taking some advice from the pros and adding some shazam! of our own. From the new Script Editor, to the Advanced Filters, Instant Alpha, and all new Editing Controls there are treats in store for everyone.



Comic Life

Comic Life Deluxe*

Comic Life 2
Comic Life 3
Platform
Mac &
Windows
Mac &
Windows
Mac &
Windows
Number of fonts included

Standard: 8

Deluxe: 41

70
74
Integrated script editor with SmartScript™ text processing, including dedicated script templates

Instant alpha tool – for quickly knocking out the background of images

Balloon variety picker

Balloon tail thickness selector

Precision balloon tail control including connecting tails

17 advanced parametric image filters, including
Rotoscope, Paintoscope, Hatched, Sketched, Smooth, Pen, Retro and more.
Find & replace – great for quickly changing a characters name
191 built-in creative fill options including speedlines, halftones, textures and tiles
11 stroke types from clean lines to scratchy pens
16 page texture overlays
3D lettering option for big, blocky comic titles
Smart alignment guides
Master page for repeating design elements
Two-up page view, including facing pages
Opacity controls for balloons
(including panels, captions and shapes)
Hideable element well
Full screen mode (On Mac OS 10.7+)
Blur image adjustment
Bezier controls for warping lettering
Text paste and match style
Element grouping
Rulers with user-settable guidelines
Shape line endings: arrows, circles etc.
Full template support
Smart shapes: predefined and freeform shapes
Integrated Facebook uploader
Standard image filtering for your photos
Bendable comic lettering text
Webcam image capture
Clippable balloons (inside panels)
Exports out as an image
Library of pre-made template layouts and styles
Built-in pictures image browser
(iPhoto+Aperture unified library)
Includes Dutch, French, German, Italian, Japanese and Spanish localizations (Mac only)
#
The best way to see the differences is to download the free Comic Life 3 thirty (30) day trial and give the new version a try: http://plasq.com/downloads/

* A "Deluxe" version of Comic Life 3 will not be released as Comic Life 3 contains all of the Deluxe extras; additional fonts, styles and templates.
 
# Partial Dutch, French, German, Italian, Japanese and Spanish localizations. A complete localization will be coming in a future update.
/* <![CDATA[ */ var initialLoad = true; $(document).ready(function() { $('.image-download').each(function(){ var self = $(this); self.fancybox({ 'autoScale' : true, 'autoDimensions' : true, 'hideOnContentClick': false, 'transitionIn' : 'elastic', 'transitionOut' : 'elastic', 'padding' : 0, 'overlayColor' : '#000', 'overlayOpacity' : 0.5, 'onComplete' : function(){ } }); }); $(window).scroll(function(){ if( !initialLoad ) { setSessionCookie( 'pos', $(window).scrollTop() ); } }); // restore scrolling position... hack iScrollTop = parseInt( getCookie( 'pos' ) ); if( iScrollTop > 0 ) { $('html,body').scrollTop( iScrollTop ); setTimeout(function(){ $('html,body').scrollTop( iScrollTop ); },100); } initialLoad = false; }); /* ]]> */