Russ Corvey and Gino Faison, musical artist in the smooth jazz world, have come together to form a dynamic pair with interesting creations. They originally formed their group, C+F, based on their music, but they also have written and designed graphic novel, City Beat, using Comic Life.
City Beat is centered around the late night underworld, all the unspoken happenings after the jazz clubs close… there's even a murder mystery afoot complete with a foot chase through the city streets! In the design of the comic Corvey and Faison really take advantage of the image filters and the flexible panel layouts in Comic Life.
Take a look a few of the pages from their comic.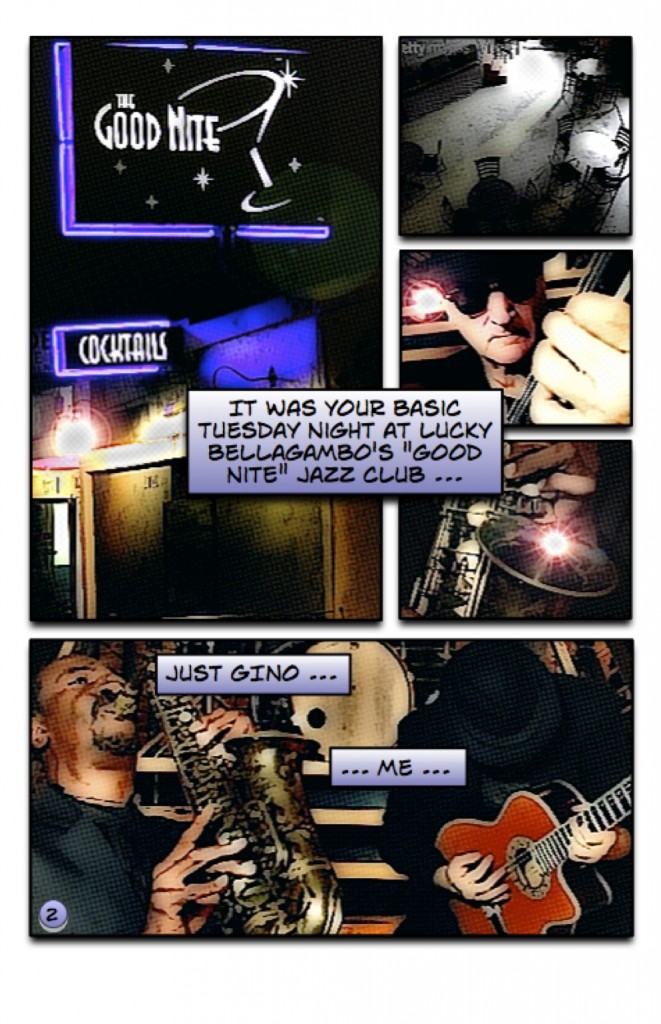 For their full bio and music video read more…
Guitarist Russ Corvey and sax man Gino Faison's new CD, Just Between Us marks
their debut in the smooth jazz world with a unique combination of jazz, funk, R&B, Latin and other styles.
The two musicians formed C+F in 2011 after meeting at a number of local club dates
and soon began recording original compositions. Early reviews have described the
sound as soulful and jazzy, with strong melodies that seem perfect for smooth jazz
audiences.
Durham, North Carolina native Gino Faison started playing sax as a teenager and later
studied with jazz greats Joey DeFrancesco and Donald Byrd. Constantly in demand as
a sideman, Gino also performed with a variety of popular acts from Archie Bell and the
Drells to Stacy Lattisaw and others.
Russ Corvey was likewise attracted to music at an early age and began playing in clubs well before acquiring a drivers license. Like most young musicians, rock was his first love, but his interests broadened while studying arranging and composition at Berklee College of Music. As leader of the popular smooth jazz act Indigo City, Russ Corvey toured nationally in support of 1998's Samba Electrique CD, performed at Switzerland's Montreux Jazz Festival and on Norwegian Cruise Lines 2000 All-Star Smooth Jazz Cruise along with Kirk Whalum, The Rippingtons, Ken Navarro and others.
An unexpected dimension of Corvey+Faison is their commitment to other art forms,
beginning with creative videos. They plan to release a new video every few months,
meanwhile, two songs from Just Between Us can be seen now at www.youtube.com/corveyandfaison .
CONTACT:
[email protected]
Check out their video using a unique combination of visual and audio stylizations: