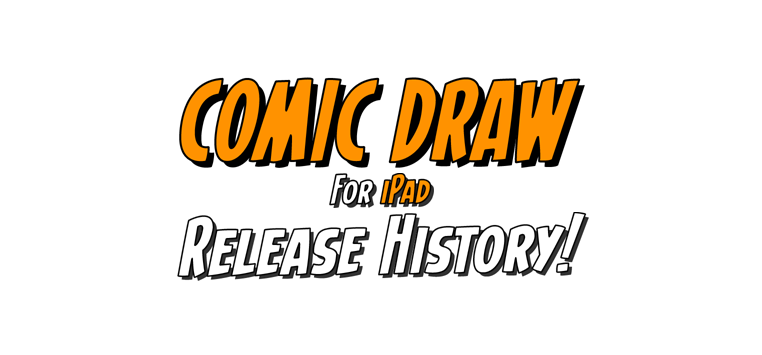 1.3.1 (37237) – Released 22nd/27th March, 2023
Fixes an issue where the wrong color was picked when color sampling
Fixes an issue where reordering pages went haywire
Fixes an issue where creating a new comic left a thumbnail on screen
Fixes a legibility issue with the Panel Layouts UI
Other fixes and improvements
---
1.3 (37225) – Released 3rd March, 2023
Support for Apple Sign-In*
New badges on comics uploaded to Comic Connect*
Export to photos now saves pages in expected order
Fixes a bug in the alpha dithering layer blend mode
Fixes a bug with image pasting
Makes the status bar visible to avoid conflict with the new OS multitasking control
* Not applicable to
Comic Draw for Schools
version.
---
1.2.14 (36940) – Released 9th November, 2021
Adds support for Apple Pencil 2 Double Tap
General UI legibility and layout improvements
---
1.2.13 (36915) – Released 6th October, 2021
Improved responsiveness of the main editor tabs when multitasking picker is present
Restored access to the regular keyboard when double-tapping with Pencil
---
1.2.12 (36900)- Released 10th September, 2021
Fixed an issue with the layer opacity slider
Fixed an issue with PDF export where artifacts appeared for some transparent element
Fixed a centering issue when pasting full page images
---
1.2.11 (36868) – Released 19th May, 2021
Fixed crash when swiping the final page
Importing duplicate presets now offers the option of adding as well as replacing
---
1.2.10 (36792) – Released 17th December, 2020
Fixes a potential crash when sharing brushes and color palettes
---
1.2.9 (36785) – Released 19th November, 2020
Fixed an ePub sizing issue when exporting comics
---
1.2.8 (36764) – Released 5th November, 2020
Fixed a label legibility issue when operating in Dark Mode
---
1.2.7 (36758) – Released 21st October, 2020
User fonts are once more accessible
Pages are properly trimmed on export when that option is selected
Untrimmed pages are exported at the correct resolution
Undo/Redo buttons now function as expected when the Script Editor is visible
---
1.2.6 (36454) – Released 3rd March, 2020
Improvements
New setting to hide the current layer overlay
New setting to trim pages on export
New Copy URL option to share uploaded Comic Connect comics from Comic Draw*
Fixes
Filling no longer creates mis-colored pixels
Duplicating a group now maintains clipping layer state
Fixed a black screen when returning to the app for some users
Other fixes and improvements

* Not applicable to Comic Draw for Schools version.
---
1.2.5 (36344) – Released 13th December, 2019
Fixed a bug where the border stroke type was unable to be selected
---
1.2.4 (36322) – Released 4th December, 2019
New layers automatically adopt sibling clipping state
Brushes can now set spacing to 300% and scatter to 1000%
App Settings includes option to disable the "Layout Panels" prompt for empty pages
Lettering border settings now include a miter limit control for pointy balloon tails
And other bug fixes and improvements
---
1.2.3 (36067) – Released 9th August, 2019
Fixed various layer mask issues
Fixed layer group drawing issues
Fixed extraneous whitespace issue when dragging elements from script
Fixed an inverted drop shadow issue with lettering when exporting to PSD
---
1.2.2 – Released 28th May, 2019
Fixed a blank icon issue in the browser that affected some users.
Missing blend mode options (hue, saturation and luminosity) restored.
Corrected the safe margins in the US Standard Comic templates.
---
1.2.1 – Released 10th May, 2019
Fixed a bug in the free trial that prevented users, that had already utilized the earlier free trial, from accessing the new one.
---
1.2 – Released 7th May, 2019
New Features:
Quickly layout your comic pages with the new panel slicing interface
Clipping layer support for fast coloring, shading and effects
Layer mask support for advanced masking options
Isometric guide for pixel art creations
Speedlines and other textures available for quick panel effects
Quickstart Guide and example comic
Other improvements:
Easily move and resize groups
Quickly access recently used fonts
Comic artwork can now be refreshed on Comic Connect
Lettering can now be converted to drawing layers for special lettering effects
Copying image data into the drawing workspaces now automatically creates a new layer (within device limits)
"Dodge" and "Burn" blend modes renamed "Color Dodge" and "Color Burn" for clarity
Resizing selection no longer retains aspect ratio by default
Easily draw perfect squares and circles with multitouch
Layer blend modes moved to a separate area and ordered to align with Photoshop presentation
Fully revised user manual
And many other improvements
---
1.1.7 – Released 22nd May, 2018
Fixes an issue where script paragraph indents are transferred to balloon and caption text
Fixes an issue when creating a new page in sketch mode doesn't select the sketching layer group automatically
Fixes an issue where opening the page chooser doesn't scroll to the current page
---
1.1.6 – Released 23rd January, 2018
Fixed crash when returning to comic browser while popover is open
Fixed layer/group re-ordering bug
---
1.1.5 – Released 7th December, 2017
---
1.1.4 – Released 31st October, 2017
Fixed a crash when renaming drawing layer
Fixed a bug when exporting a single page
Fixed a bug when exporting transparent PNG
Fixed a bug with ellipsis handling in scripts
Invisible layers no longer guide fill
Numeric sorting of comics in document browser
Updated 3rd party SDK support
iOS 11 compatibility improvements
And other fixes and improvements
---
1.1.3 – Released 11th August, 2017
Full screen scripting now always available – big user request!
Improved the response time of color swatch picking
Fixed a bug where some layer blending modes weren't properly applied while drawing
And other fixes and improvements
---
1.1.2 – Released 20th June, 2017
Fixed crash when switching to sketching when there are no sketching layers
Fixed crash when flood filling on very large canvases
Fixed a bug with certain layer blend modes not displaying correctly in final export
Very short pinch no longer triggers undo
The calibration tool now also works with your finger (when a stylus is connected)
Script editor now remembers bold and italic stylings
ePUB pages images are now correctly sized
Flood fill within a mask now works correctly
More tweaks to canvas zoom ranges
And other fixes and improvements
---
1.1.1 – Released 15th May, 2017
Fixed a potential dataloss issue when switching from the reader to the editor
Fixed a crash after setting the gutter to 0
Improved stability when using large canvases
Text elements can now be completely styled even when empty of text
Improved zoom range for large canvases
Fixed a bug where a few pixels were occasionally left behind after undoing a stroke
And other fixes and improvements
---
1.1 – Released 26th April, 2017
New Features!
Brushes
User brush textures
1-bit mode for solid strokes that are clean to color
Dynamic screentones that respond to opacity
Pressure sensitive transfer texture effects
Templates
User-defined templates supporting up to 600 PPI
Import and sharing support
Layers
Select Layer Contents
Mask Layer Alpha
Duplicate Layer
Other Features
PSD multi-layer image export
Current Page Export
Adonit and Wacom Stylus support, and pressure curves (including Apple Pencil)
(Check your stylus for compatibility with iPad Pro.)
---
1.0.3 – Released 27th February, 2017
New smoothing parameter in the brush dynamics settings
Inking defaults to pure black
Fixed a bug when creating panel styles
And other fixes and improvements
---
1.0.2 – Released 31st January, 2017
Improved the In-App Purchase flow to clarify how the Free Trial is accessed. Apparently it's been quite confusing!
Fixed a crash when opening some some URLs with the app
Fixed a crash when duplicating pages in Lettering mode
And other fixes and stability improvements
---
1.0.1 – Released 27th January, 2017
Unfavoriting a brush while sketching no longer causes a crash
Restore to reader mode crash now fixed
Adjusting the line spacing on an empty balloon no longer causes a crash
Selection changes are now properly committed when switching modes
"Open In" now exports full resolution images
And other fixes and stability improvements
---
1.0 – Released 24th January, 2017