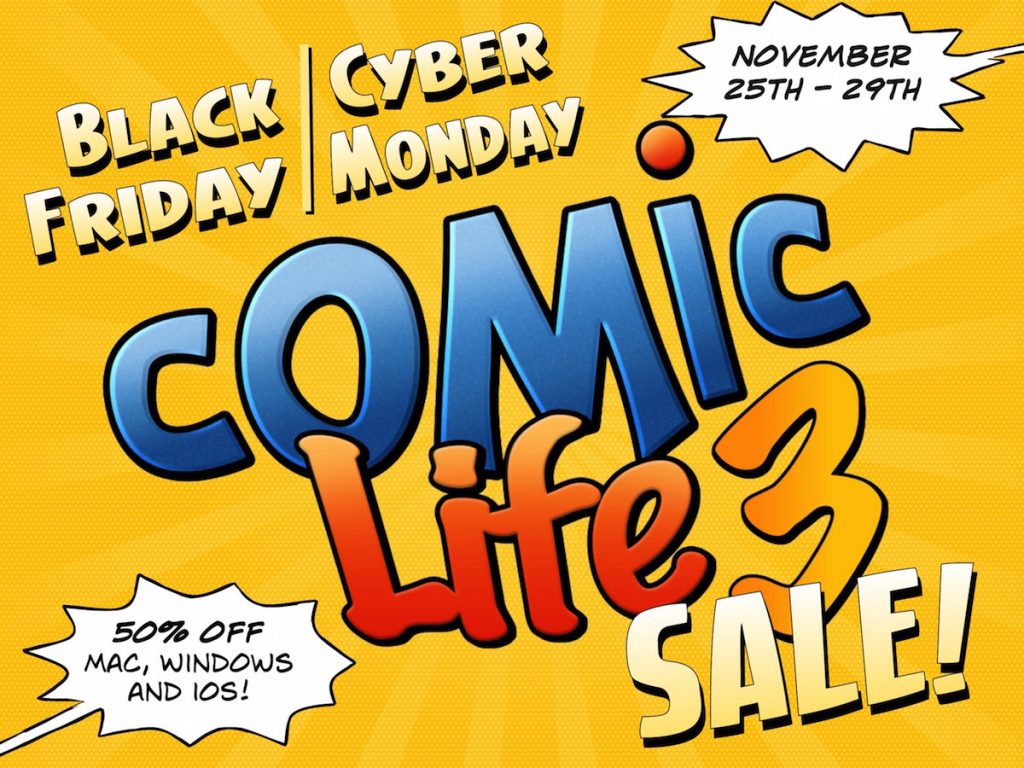 SAVE BIG ON COMIC LIFE 3
The holidays are upon us and that means it's the time for giving – giving Comic Life, that is! You can save 60% on Comic Life 3 for iOS in the App Store today! And we're spreading the joy of savings to Comic Life 3 for desktop, so you can save 50% on Mac and Windows versions too.

For those of you  recover from a Thanksgiving food coma we'll do the math for you. From NOW until TUESDAY you can have Comic Life 3 for just US$14.99 on your Mac or PC and just US$1.99 on your iPad or iPhone! You'll have incredible photo filters, a built in instant alpha tool, a library of customizable templates and much more right at your fingertips. So what are you waiting for?
If you already have Comic Life 3 then you don't need to buy it again, you have the latest version! But you can always spread the comic making joy and purchase a license as a gift for someone else!
Buy Comic Life 3 for Mac or Windows from plasq.com/store/software today and use this coupon to receive your discount: CYBER50 Or you can purchase through the Mac App Store.
Want Comic Life 3 on your iOS device for $1.99? Just head to the App Store and download! But hurry, this offer won't last forever!
---
Comic Draw Is Coming Soon!
plasq is taking a bold step in a new direction in 2017, when we will release Comic Draw. The only iOS app to incorporate all the aspects of comic production: scripting, sketching, illustration, lettering and publication.
If you've ever wanted to try your hand at making comics you will find everything you need from pencils to perspective grids, masks and more. And when your comic is finished you will be able to upload to share in the companion Comic Connect app.
We think it will help a whole new generation of comic artists unleash their imagination!
Sign up to get notified first when Comic Draw gets released!
---
Meet Steve Bee…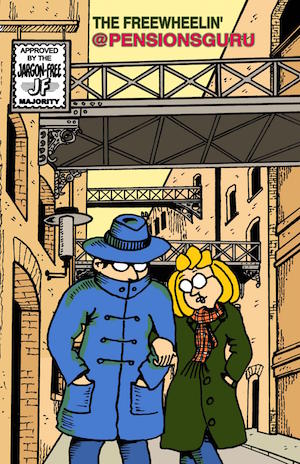 Most people wouldn't put the economics of pension planning and comics in the same conversation, but that is exactly what Steve Bee does. Steve is one of the leading experts on pensions in the UK and has worked to educate people on making smart long term financial decisions. In order to make the economics of retirement more approachable Steve created his comic-alter-ego in PensionsGuru, a comic series that intertwines financial education with humor and relatable characters. But this isn't where Steve started with comics. He started his first long running strip, Buffalo Bill Amos, when he was still in school.
"I used to draw at school to keep my friends amused. The characters were based on my friends. They're still amused by it, so I still draw it. The strange thing is the strip now has a much wider circle of readers than just the people I used to go to school with."
For Steve, there is something unique to the comic format that is integral to his story telling. "All of my stories are told in comic-book form… One day I'm sure people will look back and generally recognise comics as a separate and unique art form…"
Head over to our blog, Meanwhile…, to read more about Steve and his comics!
---
Stay Safe This Year!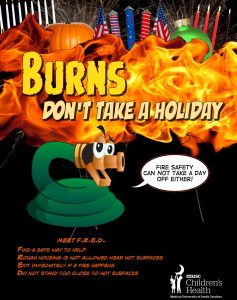 House fires spread rapidly. Families may have as little as two minutes to escape once an alarm sounds. In 2013, more than 126,035 children across the U.S., including more than 67,000 children aged 4 and under, needed emergency treatment due to a fire or burn. Of all fire-related deaths, 87% are due to home fires and in 2013, 334 children in the U.S. died in home fires. Fires are not just a problem in the United States. Nearly 61,000 children around the world died in 2008 due to a fire or burn.
October is fire prevention month and with funding from the South Carolina Blue Cross Blue Shield Foundation, the Medical University of South Carolina Pediatric Burn Center teamed up with the South Carolina Area Health Education Consortium to create an educational and entertaining comic book using Comic Life about fire prevention strategies during the holidays.  View the full PDF of Fire Safety Comic.