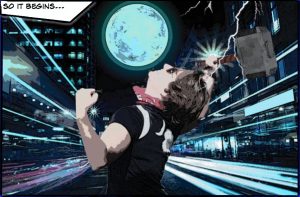 A Comic Life 3.5.5 for Windows (only) update is now available.
This 3.5.5 release fixes an image duplication issue that occurred when using Instant Alpha.
The 3.5.5 update follows from of a recent 3.5.4 update that had a number of fixes and improvements:
Comic Life 3.5.4 Windows Release Notes
Crash when processing BMP images fixed
PDF export compatibility improvements
Windows now maximize correctly
Performance improvement when using full page halftone fills
Menus now correctly sized when using software filtering
Windows 10 now correctly identified in Bug and Crash reports
"Reveal Image File" now available in context menu when external image is selected.
Other fixes and improvements
Comic Life 3 for Windows Full Release History can be found here.
plasq.com purchasers of Comic Life 3, please update from within Comic Life 3 or from our downloads page.