Comic Life 3.5.2 has just been released, download it today! What's New in Version 3.5.2? What a great question!
Comic Life 3.5.2 for Mac & Windows update is now available.
Have you ever wanted to make a photo comic but just didn't have the actors you needed? Well, let us show you a way to work around that. We're big fans of what Jason Talbert has done –  all you need are some…
Building Full Color Halftone Full color halftone is a trademark of comic design, but it is difficult to create without advanced graphics tools… until now! Comic Life 3.5 has an easy to use tool for creating full color halftones in just a few…
Get it FREE if you have Comic Life 3! See end of article on how to update to Comic Life 3.5 We are thrilled about this major update to Comic Life 3. It is packed with new comic goodness for…
Summary: Charleston based developer, plasq today releases Comic Life 3.5, the latest version of its award winning photo comic creation software. Packed with fonts, templates, balloons, captions, and lettering art, Comic Life is a fun, powerful and easy-to-use app that…
Just in time for the holidays!
Grab your Comic Life 3.1.6 update today on iOS. There as a little bug when entering reader mode on a rotated device that needed fixing… so we fixed it!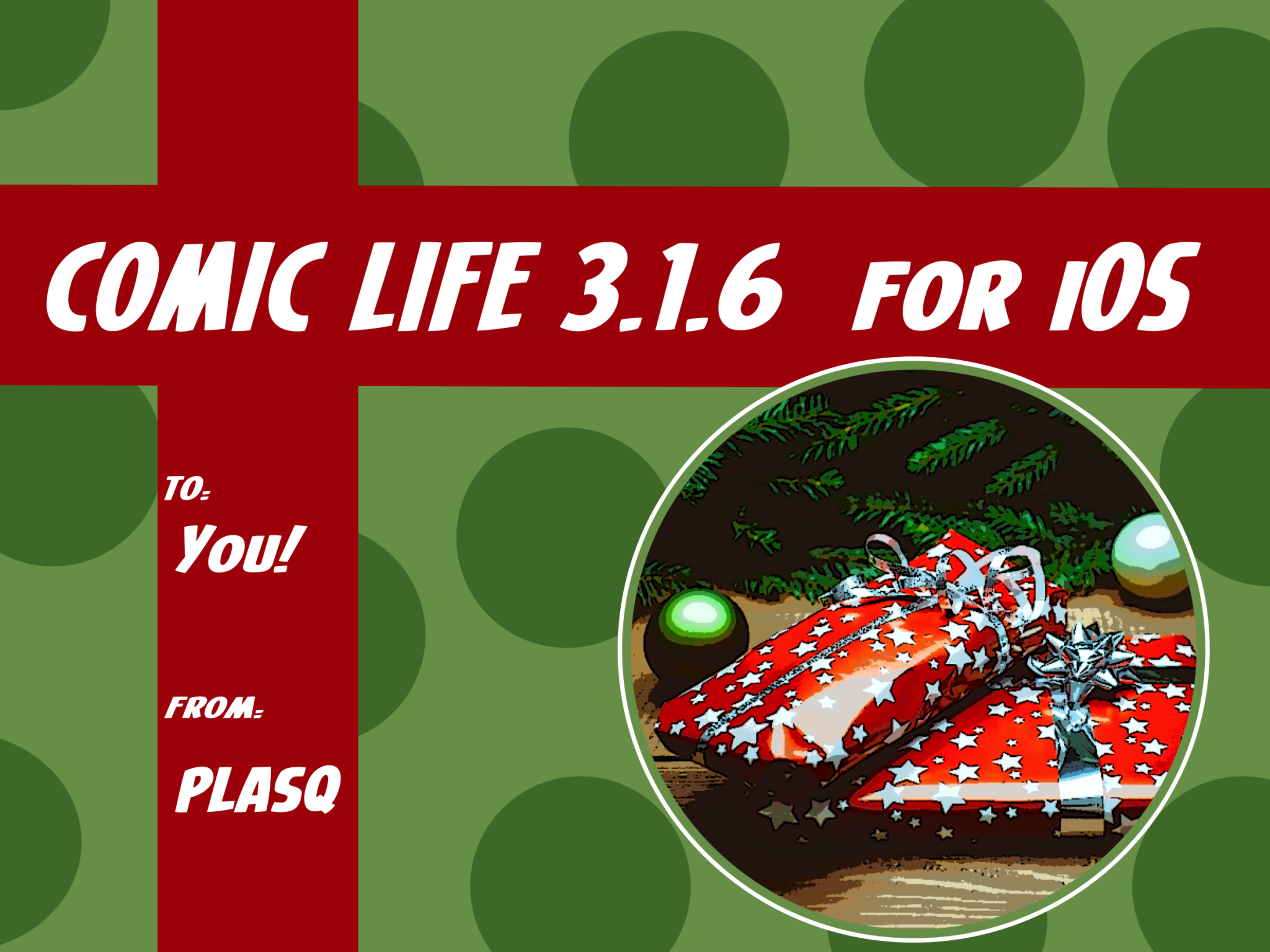 Recently a movie came out that has had a lot of hype and has lots of STARS in it and a couple of WARS. It's supposed to be a big deal, so lots of people are talking about it. Not…
Here at plasq we love our family pets. Between all of us we have several dogs, a few bunnies, a couple of cats and I'm pretty sure Mark has a kangaroo he's not telling us about.  The ASPCA put out a great collection of tips for keeping our four legged family safe and sound this holiday season. An abridged version of their list can be seen in the comic below.
May you and your furry friends be safe this holiday season!
So the holidays are upon us… like, really up-on us. If you're like me you may be scrambling to get a holiday card out that's personalized, fun and doesn't have to be ordered. Here are some comics you can use…
In Charleston, SC, USA students became teachers through an innovative public health awareness program. Last year the South Carolina Area Health Education Consortium (AHEC) partnered with the US National Library of Medicine and three high schools for a health information literacy…
Comic Life 3.1.3 for Mac and Windows is available today! Fixed a couple of bugs that showed up with El Capitan and now we're good to roll! So go get your update and keep on making those fantastic comics. Download…
Comic Life 3.1.1 for Mac & Windows update is now available. This 3.1.1 update brings additional bug fixes and stability improvements.
Jason F. Talbert recently contacted us to let us know he has being using Comic Life 3 for iOS to bring his webcomic, The Adventures of Gar to life. We asked Jason if he could let us know more about…