Our first update to Comic Life 3 for iOS for 2015 has just dropped, so grab it today while it still has that new release feeling!
What's New in Version 3.0.3? Glad you asked!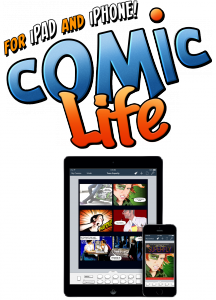 Added support for iCloud Drive
Improved image saving to Photos
Improved results from flickr searches
Several other fixes and stability improvements
For Comic Life 3 for iOS, please update using your iOS device or through iTunes.
Comic Life 3 for iOS is packed with new features for making the best looking comics on your iPad and iPhone.
Find out more about Comic Life 3 for iOS on the Comic Life for iOS page.
Comic Life 3 for iOS is available through the iTunes App Store for only $4.99.
What's this? You've made it to the end? We're impressed! You must feel drained! Replenish your virtual potassium levels on us!