Our second update to Comic Life 3 for iOS for 2015, yes second, has just been released, download it today while it still has that new car smell!
What's New in Version 3.0.4? Glad you asked!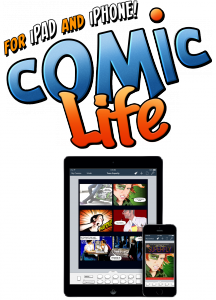 Fixed a crash using Open In Other Application
Fixed bug that forced extension bubbles to be the same type as the primary bubble
For Comic Life 3 for iOS, please update using your iOS device or through iTunes.
Comic Life 3 for iOS is packed with new features for making the best looking comics on your iPad and iPhone.
Find out more about Comic Life 3 for iOS on the Comic Life for iOS page.
Comic Life 3 for iOS is available through the iTunes App Store for only $4.99.
You've read to the end? Color us impressed, and call us a blueberry!