We recently came across some excellent resources being created with the help of Comic Life over at CreativePhysEd, authored by Gary Standinger, a Secondary Physical Education Teacher. We asked Gary if he could do a guest blog for us. He agreed! Below you will find his review of Comic Life and some fantastic resources he has created using Comic Life.
Creating teaching and learning resources is something I enjoy.
By Gary Standinger
I admit, I can get carried away and spend countless hours designing worksheets, resource cards, posters, leaflets etc., for my students. However, I was recently introduced to Comic Life and it's changed the way I go about creating resources. I often used PowerPoint, Microsoft Publisher and Word, but Comic Life inspired me to 'think outside the box more' and come up with colourful and imaginative learning resources. Not only has it inspired me, it has inspired my students and colleagues, who love the wacky fonts, pictures and general layout of these comic themed resources. It takes minutes to create a simple, but effective learning resource. The design tools are user friendly and there are numerous comic templates to choose from to help you get started.
I am a huge fan of Comic Life and would 100% recommend downloading the app, to start creating 21st century resources! It's worth every single penny. Thank you Comic Life!
Here are some examples below.
Designing a Coaching Play! "Out of Bounds Play" using Comic Life!
This is a fun, creative lesson where students get the opportunity to explore making an out of bounds play.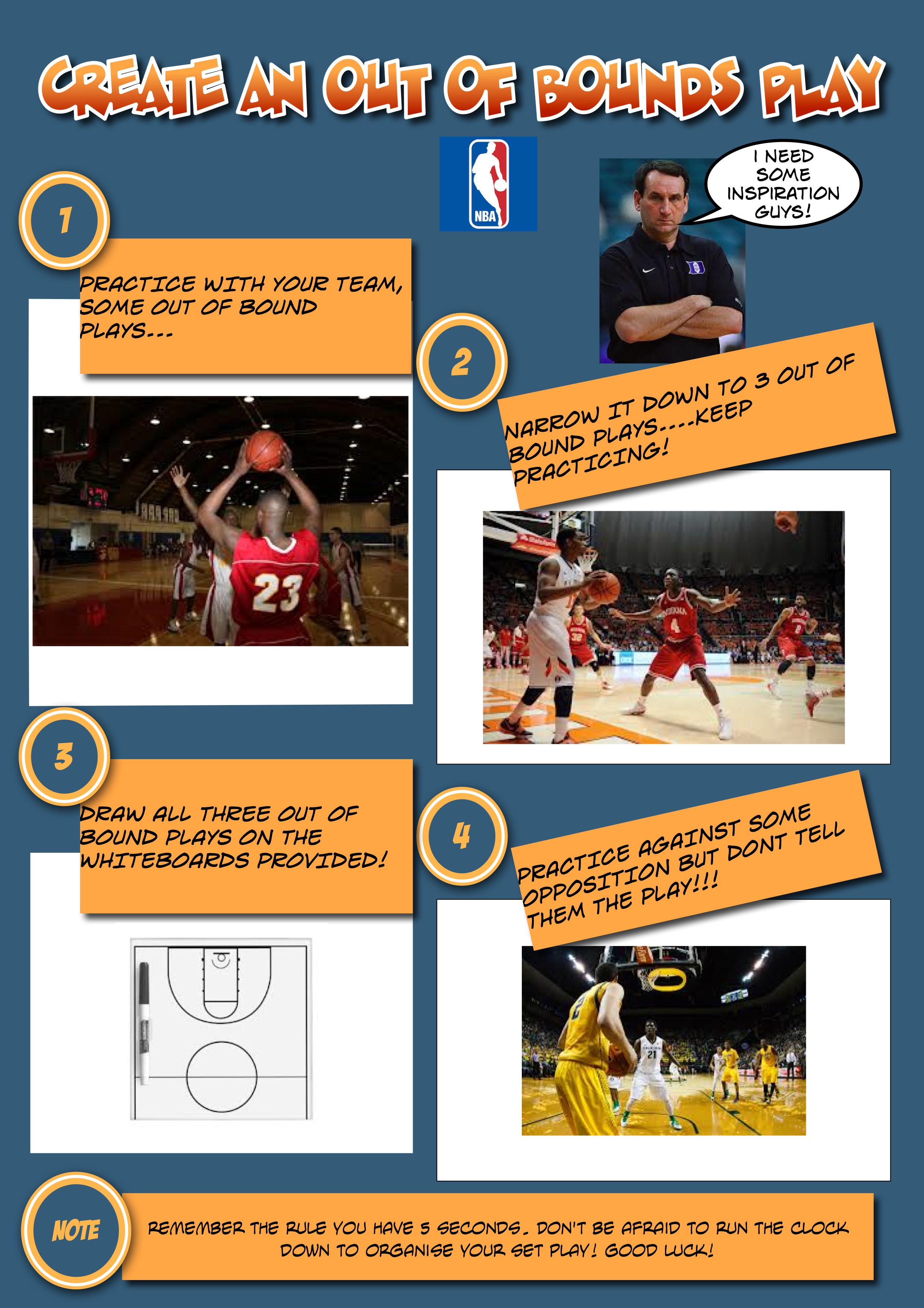 The majority of students or players I see/coach will tell me they like to inbound the ball as quickly as possible, to get the ball in play again. They are correct. However, the majority don't necessarily think about outwitting their opponents, especially during critical moments in the game, for example with 10 seconds to go at 90-90! I designed this learning resource card to help students design a number of plays to make them get a shot off or go to the basket. As with all plays a coach draws up, it involved the entire team either setting screens, making cuts, creating space etc. Even if student A is the one to take the 3 pointer at the top of the D, other students on the team will/can explore other roles. This gets students to think outside the box and come up with plays to suit their needs. Give it a try today.
Progress Tracking Sheets for GCSE PE – Using Comic Life!
I introduced these Comic Life designed tracking sheets at the beginning of term to my GCSE PE Year 10 students. These are placed at the front of their folders. The idea of these sheets is for students' to track their individual progress. The blue column is for them to tick when I have taught that particular topic. However, the traffic light colours indicate whether they were confident, found it ok or didn't understand it at all. When I mark their folders, I could see their feedback and then comment on their assessment. I used this as an intervention, so for example, if a student was struggling and said on their tracking sheet that they didn't understand it, I could help them further. This has been successful and the students enjoy assessing their own progress. I encourage them to be honest and reflective. I read these sheets before marking their work to give me an idea of how they have found the work covered in class. Give it a try.
Learning about the 5 key positions in Basketball – Using Comic Life!
I recently designed these learning resources cards for my Year 9 students. We are about to start a basketball unit and having explored the principles of the game, defence and offensive work in previous lessons, now is the time to explore key positions. The one thing I love about Basketball as an invasion game, is that there is a position for every student in a PE class. It doesn't matter about ability, how fast you are, how high you can jump etc. there is something for everyone.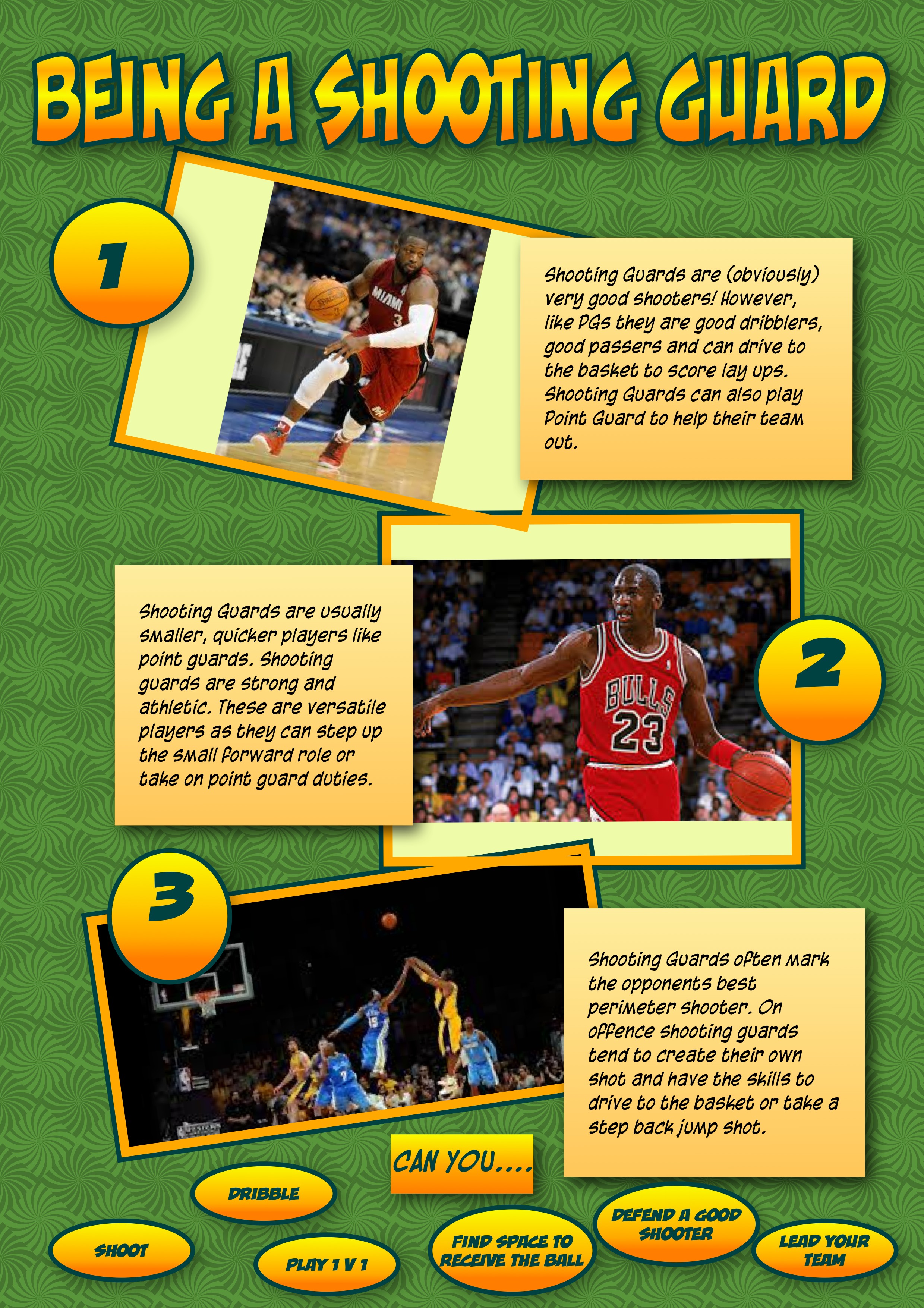 I created these resource cards for my students, using Comic Life, to highlight the roles and responsibilities of each position. The cards provide information about the skills needed to fulfil each role effectively. More importantly, each student should be allowed to play in each position over several PE lessons to reflect on their strengths and areas for development. I believe this is crucial for their development as Basketball players and this will give them ownership to play in a position suitable to them. Each position is unique and should be explored in order to find a position suitable to a students playing style.
I printed these off in A3 colour and stuck these on the whiteboard in the sports hall, so students could read and explore each position, prior to playing. Give it a go today.
A big thank you to Gary Standinger for taking the time to write about his use of Comic Life in the classroom, and for sharing his resources with everyone! Please check out his CreativePhysEd site – as there are many, many more educational resources and ideas created with Comic Life. Thanks, Gary!