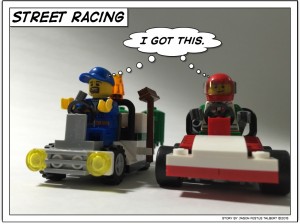 Jason F. Talbert recently contacted us to let us know he has being using Comic Life 3 for iOS to bring his webcomic, The Adventures of Gar to life.
We asked Jason if he could let us know more about The Adventures of Gar and his process:
I have been using Comic Life for years. It started back in 2007 with my original webcomic called Gar's Space. At first it was a hand drawn webcomic scanned into the computer, then it moved into vector graphics and then finally into 3-D graphics. I was using Comic Life to bring all the elements together. Now Gar's Space has evolved into The Adventures of Gar, using LEGO as my medium of choice.

The webcomic process starts off in many different ways. It can start as a single photograph or as an idea rattling around in my brain. I keep the backgrounds simple to emphasize the characters and situations in the story. Then I shoot the photographs, import them into Comic Life, then add text, titles, and other effects. I do this all on my iPhone 6 Plus, from start to finish.

Thank you plasq for bringing such a powerful story telling tool to the world. s long as I have stories to tell I will be using Comic Life.

Jason Talbert
Thanks very much for the wonderful insight, Jason! Below you will find one of the wonderful The Adventures of Gar comics, visit The Adventures of Gar for further tales of Gar!