Comic Life 3.5.5 for iOS has just been released, download it today!
This update fixes a JPEG image export bug that had the wrong contents and wrong resolution and 'Arrange' now works when just two elements are on a page.
Plus a new app setting that allows classic panel resizing mode to be selected. This is toggled on in the iOS Settings app > Comic Life 3 > Classic Panel Resizing.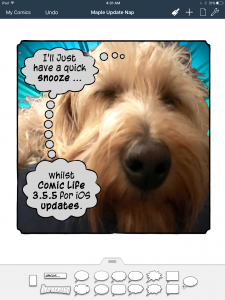 Full release notes are available.
For Comic Life 3 for iOS, please update using your iOS device in the App Store or via iTunes.
Comic Life 3 for iOS is packed with new features for making the best looking comics on your iPad and iPhone.
Find out more about Comic Life 3 for iOS on the Comic Life for iOS page.
Comic Life 3 for iOS is available through the iTunes App Store for only US$4.99.